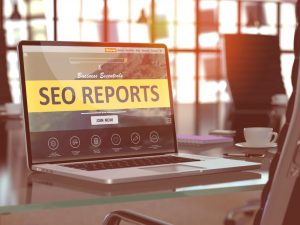 The online marketplace has become more prevalent than traditional methods of attracting and retaining new consumers. A website has the ability to span oceans and to connect people from every section of the globe instantaneously. Having the ability does not ensure effectiveness. This is where the concept of SEO comes in.  It has the power to put a website on the first page, increasing organic traffic by up to 90 percent.
What makes SEO necessary for digital marketing?
Some professionals talk about SEO like it is an abstract concept. A mythical marketing tactic that no one seems to grasp in a way that is concrete..
SEO gives content the power to reach more customers, create repeat business, generate new interest, and to monitor the impact of marketing campaigns across the digital divide. The internet is a fluid platform that constantly changes as new material is introduced. When a person searches for something on the internet, major search engines like Google use data to rank the search results that are displayed first.
SEO is Marketing with a Purpose
The purpose of SEO is in in its name—search engine optimization: to optimize content so that it is more compatible and visible when related keywords or concepts are searched for on the internet. The higher a website is ranked, the more consumer exposure it receives.
How SEO Promotes Diverse Marketing Tactics
Marketing any product or service requires as much diversity in the tools used as possible. No business should place all of its faith in one marketing tactic for success. Instead, they should have a complex plan that incorporates a number of digital and traditional methods like:
Generic Marketing-

This method is intentionally developed to attract new customers to a brand. This involves blanket techniques such as local print advertising, visual media, and digital ads (PPC) designed to make a hard sale.

Idea Marketing (Mindsharing)-

This type of marketing is specifically created to generate repeat customers. This can include things like blog posts, articles, and informational content.

Word of Mouth Marketing-

Marketing via word-of-mouth is, again, more locally centralized. It involves people within the community promoting a business based on their experience with it.
SEO Increases ROI
SEO experts understand that creating content that draws in consumers is a valuable part of the marketing long-game. Standard advertising can disrupt consumers' Internet experience. Very few people enjoy commercials, and everyone has felt that irritation that comes with Internet pop-up ads.
Using SEO content means that consumers will only see the material when they search for a related topic. This indicates that the consumer was already interested in the material prior to any advertising, creating only a small jump from interest to sales. This cuts out the digital middleman, simplifies the marketing process, and creates a larger financial return on a smaller investment.
SEO Content Builds a Solid Marketing Base
Unlike PPC (pay-per-click) marketing, SEO is not focused on instant results. PPC marketing is expensive and has a very short online shelf-life. Consumers lose interest quickly making it less effective than SEO over an extended period of time.
SEO content is created to build a loyal customer base that speaks to interests outside of a specific product. This casts a wider marketing net and allows for the attraction of a more diverse target audience.
Learn More About What SEO Can do For Your Business
Whether you have just started a small business, or you are struggling with a larger one, contacting the SEO experts at Authority Solutions can bring your product to the forefront of digital marketing.